Builders Cleaning Services
Get rid of the builder's dust and mess with our builders cleaning services.
Our cleaners are licensed and always provide the best results.
White Owl After Builders Cleaning Services
If you have just completed a one-off build, a home renovation or if you are a construction company, you should try our After Builders Cleaning Services. We provide a complete clean up after your project is completed.
This is a top to bottom dusting/cleaning, removing any signs of builders from tiles, windows, glass, wood floor, walls and more.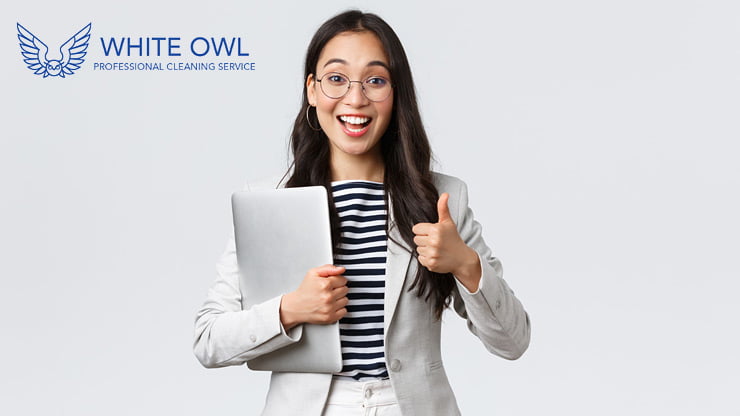 WhiteOwl | Industrial Contract Cleaners in Cork
Cleanliness is paramount for the industrial facilities in which Ireland's industry experts manufacture cosmetics, machinery, food, pharmaceuticals, and more. To avoid contamination production plants, research centres and warehouse facilities must always be kept to the highest hygiene standards. Standards that can only be adhered to by professional Industrial Contract Cleaners like Cork's own White Owl Cleaning Services.
Cork's industrial and business community is one of the most diverse and thriving in Ireland. A community that is expanding each year and setting the standard for facilities worldwide. To support the region's industrial sector, we provide industrial contract cleaners in Cork for small and large industrial facilities. Our industrial cleaners are specially trained to work in a range of environments and to the standard of industrial safety codes.
To enquire about our industrial contract cleaners in Cork, contact White Owl today on 087 431 2823.
Industrial Cleaning Services Customised To Your Facility Requirements
For more than 12 years, White Owl has built an irrefutable reputation as an industrial contract cleaner in Cork. Largely, this is down to the tailored service we offer all of our clients. We understand that no two manufacturing plants, nor any two warehouses, are the same. Every building has variations of mechanisms, processes and components, meaning that each site requires a customised cleaning plan.
As industrial contract cleaners in Cork, White Owl has worked in every type of factory and storage site. Our specialised training means we understand that some environments are often hazardous and require specific specialised cleaning. From sites with heavy footfall to sites with potentially dangerous equipment and materials, we have experience with them all.
When we visit your site, we will form a customised cleaning plan in line with your needs and facility. Before we begin cleaning any industrial site, we ensure we fully understand the layout, the use, hazards and site hours. Your tailored cleaning plan will take into account the schedule of your site and production line. Working around your teams for an efficient, thorough clean.
What Are Industrial Contract Cleaners?
Industrial contract cleaners are specialised professional cleaners who have been specifically trained to work in manufacturing and storage (warehouse) environments. This includes knowing how to work around heavy machinery and in large-scale plants.
Industrial contract cleaners are trained to use heavy-duty cleaning equipment needed for large busy sites. They are also trained in the various procedures used by different industries, such as HACCP.
Types of Industrial Contract Cleaner Services, Cork
Industrial contract cleaners provide a range of services aimed at cleaning disinfecting and sanitising industrial facilities. These services vary depending on the needs of the customer and facility. At White Owl we customise our industrial contract cleaner services for Cork clients, a customised service plan could include:
Industrial Janitorial Services
We know that many industrial facilities work around the clock to keep production lines going and meet deadlines for deliveries. This is why we provide industrial janitorial services 24 hours a day and 7 days a week. This service allows you to focus on running the facility while we focus on keeping everything spic and span.
Our industrial janitorial service focuses on every part of your work site. This includes staff rooms, offices, storage, production and meeting rooms. Our sole aim is to ensure that each area is clean, tidy and cared for.
Having industrial janitors available onsite also means that spillages can be dealt with quickly and effectively. Removing hazards quickly to maintain the right health and safety standards.
Deep clean services
Cleanliness in an industrial setting is integral for safety and productivity. Industrial deep cleaning prepares manufacturing, research and storage facilities for use. We find that our clients mostly book deep cleans between projects or when an area is temporarily unused. This is an opportunity to clean spaces that are not usually accessible, removing dirt from hard-to-reach spaces. Industrial deep clean services can be booked as one-off services, weekly, or monthly.
Anti-contamination fogging
The importance of anti-contamination fogging became apparent during the Covid-19 pandemic. The speed with which it spread highlighted weak points for communities, commercial businesses and industrial facilities.
White Owl uses a key service to assist our clients in strengthening all areas of their business sites. Using an antiviral disinfectant and specialised equipment, we are able to sanitise large areas quickly. Anti-contamination fogging is a preventative cleaning method that is beneficial to your employees and customers. Regular anti-contamination methods like fogging help prevent the spread and growth of germs at your work site.
Power Washing
Whether it's dirt from a high footfall or from dust created by production, power washing can help remove it. Power washing floors, walls and surfaces is a fast and effective method for removing dirt and contaminants. By preventing a build-up of dust and dirt, you are protecting both your people and property.
Power washing uses high-pressurised water to blast away grime and dirt and can be used indoors or outdoors. Our experienced team also uses this method for cleaning equipment such as silos and machinery. Talk to our cleaning technicians about how power washing can help your industrial cleaning needs.
Builders clean (also suitable for pre and post-equipment installation)
Following building work or machinery installation, sites become covered in layers of thick dust. There is often debris onsite left behind by the builders too. A 'builders clean' is a specialised cleaning service that we provide to return building and installation sites into workable sites.
Our teams remove all traces of rubbish, dust and grime – working from top to bottom to ensure nothing is missed. Every wall and surface is dusted, washed and then sanitised. Windows are cleaned and flooring is vacuumed and, where needed, shampooed. Sites with hard floors are washed with our industrial floor machines and sealed with a suitable finish.
Industrial hard floor cleaning and buffing
Floor conditions in an industrial setting are one of the most important elements of safety. A wet, unclean or unlevel floor can lead to accidents. Our industrial hard floor cleaning and buffing surfaces takes away dirt and leave floors dry and buffed. Using a high-speed industrial cleaning machine, we thoroughly wash floors and remove even ingrained dirt.
This service is suitable for wood, concrete and tiled floors. To help protect your floors from wear and tear, we finish the floor cleaning service with a protective coating.
For more information about our Industrial contract cleaners in Cork contact us here.
What Kind of Businesses Need Industrial Contract Cleaners?
Industrial contract cleaners are typically hired by clients with large-scale sites these include but are not limited to:
Food and beverage production plants
Fashion factories
Pharmaceutical plants
Research sites
Data centres
Retail production and warehouses
Distribution centres
Cosmetic production sites
Producers of heavy equipment
Construction warehouses, suppliers or production plants
All warehouse types including self-storage facilities
Why Use Industrial Contract Cleaners?
Industrial Contract Cleaners Are Specially Trained
Cleaning companies that provide industrial cleaning services will arrive at your site prepared and already trained. This takes the pressure off you and your teams as it reduces the requirement for you to provide site training.
Industrial Contract Cleaners Understand Industrial Environments
As experienced industrial cleaners, we are familiar with the requirements of sites like yours. Sites with large-scale (sometimes potentially hazardous) machinery and production lines. Knowing how to work in this type of environment, we are able to carry out our services efficiently and safely.
Industrial Contract Cleaners Understand The Importance Of Plant and Storage Cleanliness
We have also worked extensively with warehouse clients in Cork. Our work with warehouses has involved deep cleaning of large areas and daily cleaning services also. Maintaining storage facilities is an essential part of the supply chain as it prevents product contamination and also pests.
Industrial Contract Cleaners Use Suitable Equipment
Industrial contract cleaners know what type of cleaning equipment and solutions are suitable for different sites. We provide our own equipment and cleaning materials and get to work the moment we arrive.
Industrial Contract Cleaners Are Trained And Insured
Unlike regular cleaning services, industrial contract cleaners are trained to work in specific environments. This prevents mishaps, saves time and gives you – the customer – peace of mind. All White Owls cleaners are also insured.
How To Choose Industrial Contract Cleaners in Cork
When looking for industrial contract cleaners in Cork, always look at the company's previous experience in similar industrial facilities. This is the key indicator that they will be able to fulfil your cleaning requirements. Having experience in a similar facility also means there will be little or no additional training from you.
Location is a key factor to look at also. If your company is based in Cork, then look for a local industrial contract cleaner in Cork. Choosing a company local to you will ensure that there are no additional travel costs. Working with local Industrial contract cleaners also means that they are not too far away if last-minute services are needed.
Training is an essential factor when looking for Industrial contract cleaners. Especially for particular industries. Ask about the training given to the company's industrial cleaning teams and how regularly it is topped up. It is imperative that the knowledge of your cleaning company compliments the industry standards that you are compelled to meet.
When choosing industrial contract cleaners consider your equipment needs. Most industrial contract cleaners will provide their own suitable cleaning equipment. If however, you would prefer that they use existing equipment then discuss this with them in advance. Alternatively, if you would prefer to purchase cleaning equipment to keep onsite, an experienced company will be happy to advise. In most instances, our clients prefer us to bring and maintain our own industrial cleaning equipment.
At White Owl, we guarantee that Industrial contract cleaners in Cork are fully trained and insured. We offer customised industrial cleaning services and also industrial janitorial services, 24 hours a day and 7 days a week. Our services are offered for industrial facilities such as factories, warehouses, and storage buildings. If you are unclear about the services we can offer your facilities, please get in touch.
As the leading industrial contract cleaners in Cork, we are expert cleaners for hazardous environments. For industrial contract cleaners that understand your special cleaning care needs, contact us here
Cleaning Services
We Offer
Meet Our Clients - We Work For Them